Lighting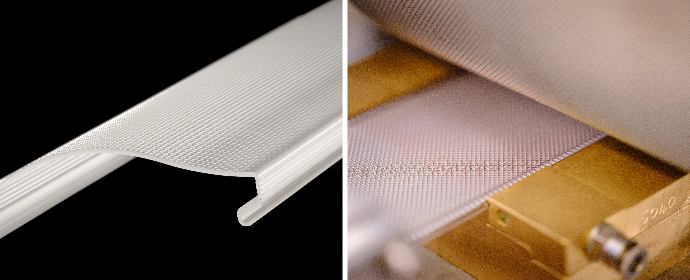 We are the UK's largest manufacturer of bespoke plastic profiles for the lighting market and have been serving the industry for over 10 years from our East Grinstead factory.
Plastic lighting extrusions we have been commissioned to produce include:
Lighting profiles
Lighting diffusers
Lenses
Luminaires
Refractors and reflectors
The knowledge we have gained working with architects and lighting manufacturers means we can offer precise technical input at the design stage of new lighting products. For instance, incorporating specifically designed linear prisms for lenses and controllers to give photometry; creating aesthetically attractive surface finishes such as frosted, satin and opal; and using materials that provide excellent light diffusion and high light output.
For optimum light output with minimal glare Condale can produce a range of prismatic and micro-prismatic clear diffusers. These diffusers enable lighting schemes to achieve Unified Glare rating ol less than 19. These diffusers, like many others that we produce are available in a range of standard polymers and many with enhanced fire ratings.
From cost-effective styrenes to VO-rated polycarbonates that meet the stringent lighting design and safety requirements of the bus, rail and aircraft industries – we can recommend the best material for your lighting product. Co-extruded options are also available providing either twin colour lighting profiles or lenses incorporated within an otherwise structural profile.