Plastic Extrusion Manufacturing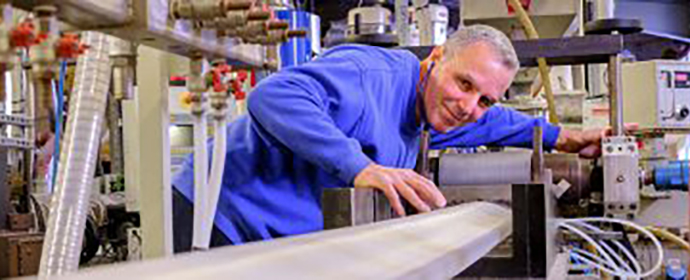 Condale Plastics offers plastic extrusion and manufacturing services from our extensive UK manufacturing facility. Our East Grinstead, West Sussex based factory provides the flexibility to produce bespoke plastic extrusions in all shapes and sizes to suit a broad range of applications, ensuring your extrusion manufacturing needs are met. We aim to make plastic extrusion manufacturing simple.
We are lucky to have a 6,000 square metre manufacturing facility that includes a state-of-the-art tool room, along with 33 extrusion lines across 3 manufacturing buildings. This also includes a separate clean and anti-microbial medical unit for the production of our medical grade extrusions. Founded in 1969, Condale Plastics have over 50 years of experience in the industry. Our team of knowledgeable experts have tackled some of the most complex extrusions, finding solutions for a number of uses.
Our extrusion lines can handle a range of plastic profile sizes. Our plastic extrusion manufacturing equipment allows us to create profiles up to 300mm wide and plastic tubes from 2mm to 160mm in diameter, which we can cut to length or coil as required. We are also able to achieve a variety of finishes as part of our extrusion manufacturing process, ranging from a high gloss appearance through to satin to profiles with a rougher, textured finish. Our plastic extrusion manufacturing services are undertaken by our skilled team of specialists here at Condale Plastics, with expertise in extrusions for lighting, retail and agriculture.
Plastic extrusion manufacturing services
Initial plastic extrusion design consultation
Dedicated support with choosing the best thermoplastic material for your application
Quality plastic material selection including colours, finishes and chemical / heat resistance
Bespoke plastic extrusion manufacturing from our West Sussex based factory
To find out more about our plastic extrusion manufacturing services, get in contact with the Condale Plastics team and find out how we can help you.