Rigid PVC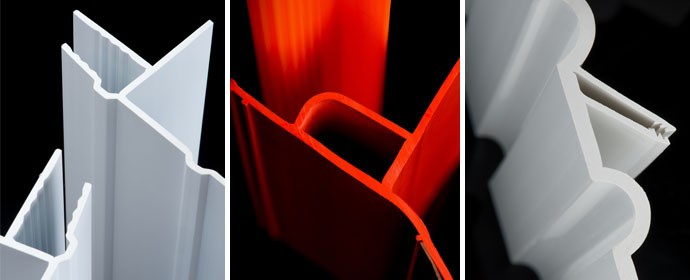 Rigid PVC (also known as uPVC) is the third most widely produced polymer. In terms of plastic extrusions, PVC is the most frequently extruded rigid plastic. It is low cost, has recyclable properties and is versatile for both indoor and outdoor use. This makes rigid PVC extrusions a popular choice for a wide range of applications. uPVC stands for unplasticised PVC and the material is characterised by its durability and strength. It's also an extremely adaptable plastic, great for many applications.
Rigid PVC properties
PVC is a hard polymer that can be further enhanced using impact modifiers. Rigid PVC extrusions have strong chemical resilience. This means rigid PVC tubing can be easily welded, glued and fused to itself – ideal for joints in pipes. Its resistance to corrosion makes extruded rigid PVC profiles, sections and trims suitable for outdoor environments. PVC also has good insulation properties for low voltage electrical uses. Thanks to its multiple benefits, rigid PVC extrusions and rigid PVC tubing has been used with success in both indoor and outdoor locations.
Rigid PVC extrusions in use
Rigid PVC is widely used in construction for water and waste pipes, conservatories, gutters, cladding, wall and door protection and window frames due to its excellent thermal properties and stability. In transport applications uPVC is used externally for vehicle bodies, caravans and boating, and internally for creating pleasing aesthetics, since it is available in many colours and surface finishes. In the retail sector point of sale displays, storage racks, ticket strips and poster grippers are all produced from extruded rigid PVC.
At Condale Plastics, we have a wealth of experience creating bespoke rigid PVC products. All of our plastic extrusions are manufactured in our on-site factory based in Sussex. Our expertise in this area means we are able to offer expert design and finishing for a range of extrusion uses.
If you'd like to know more about rigid PVC, please contact our plastic experts.