Polypropylene Extrusions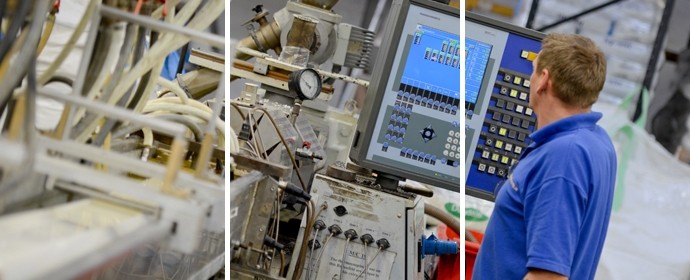 Polypropylene (PP) is a hugely versatile plastic due to its low cost, durability and excellent tolerance of both chemical substances and high temperatures. It is available in different grades dependent on the application, for instance, food grade polypropylene is used in a wide range of food and non-food packaging. Other common applications for polypropylene include stationery, toy parts, automotive components and gardening products.
Polypropylene properties
The properties of polypropylene are very similar to polyethylene, although there are some specific differences.  Polypropylene has a greater rigidity and hardness, is lower density and has a higher melting point of 160oC, therefore offering excellent electrical and heat resistance.
The most popular grades for polypropylene extrusions are:
Homo-polymer – a general purpose grade with good fatigue resistance due to its stiffness and clarity.
Co-polymer – used for applications where higher impact and greater transparency is required e.g. non-load bearing hinges.
Polypropylene is also recyclable, so extruded polypropylene products can be reground and reused at the end of their working life to produce other plastic products.
Polypropylene extrusions in use
We manufacture a diverse range of custom polypropylene profiles and tubes for our customers, including:
Oil pump tubes
Polypropylene parts for toys
Handles and shafts
Food grade tubing and sample tubes