Plastic Extrusions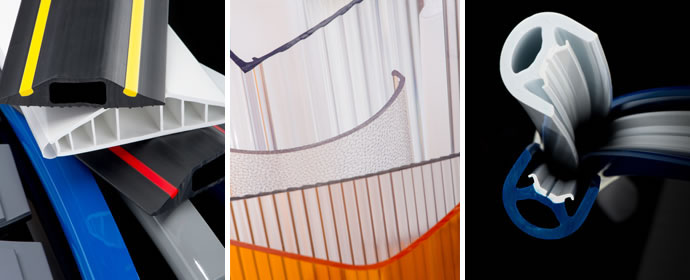 Plastic extrusions are versatile and suitable for applications across a diverse range of business sectors. They can also be very simple or complex due to rigid or flexible profiles as well as our co or tri extruded plastic profiles that can combine two or three different colours or materials in a single profile.
At Condale Plastics, our well-equipped manufacturing facility allows us to produce custom plastic extrusions in a wide variety of shapes, colours and sizes, from the smallest 1mm plastic tubes to large 400mm wide plastic profiles. Our PVC extrusions are made to order at our Sussex based manufacturing facility.
Our highly skilled technical engineers can handle complicated designs, such as plastic profiles with variable wall thicknesses, and can also assist with the design and improvement of existing profile sections. We also manufacture to order standard plastic profiles and plastic tubes. We're proud to remain British manufacturers of plastic extrusion products, offering custom and bespoke profiles.
To put it simply, the process of extruding plastic involves using raw plastic and melting the material into a continuous profile. Other desired variables such as colours, UV stabilising materials are added to the mix which is then fed in to a container with an extrusion screw. This is used for temperature control and to prepare the mixture for the die. The die then gives the extrusion its shape. Once the extrusion has cooled, it will solidify offering the desired shape. The manufacturing process is best undertaken by skilled, highly experienced experts such as our technical engineers in our UK-based factory. If not created properly, plastic extrusions can appear poor quality and unfit for purpose. Bearing in mind extrusion only became commercially available in the late '30s, the fact we have been manufacturing since the late '60s, gives us some of the most expert and longstanding knowledge in the entire UK.
We're proud that most of our plastic extrusions are made from recycled materials in order to maintain the levels of pollution on our planet. Our profiles also have a long-life span, which fits with our ethos of being as sustainable as possible and increasing the re-usability. At Condale Plastics, we are leading the way in our sector with regards to sustainability and are committed to further developing our recyclable offering. In addition, our sales team have worked tirelessly to increase our presence in the renewable energy sector. Where possible we aim to guide our clients towards a low carbon economy, such as that stated in the Paris agreement.
If you'd like to know more about our plastic extrusions, please contact our experts.