Polycarbonate Extrusions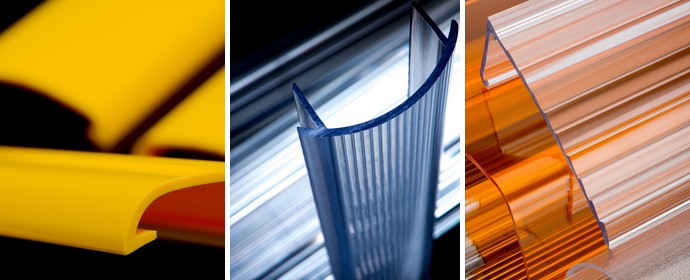 Polycarbonate's strength and clarity make it an ideal choice for applications in lighting, glazing and protection. It is often used for the production of diffusers, lenses and luminaires. It is regularly used in both profile and sheet form.
Polycarbonate properties
Polycarbonate is an extremely strong polymer with high impact resistance, high temperature resistance and excellent optical properties, owing to its high transparency.
Due to these properties and the polymer's shatterproof nature, it is used as a substitute for glass in many instances.
Polycarbonate extrusions in use
Extruded polycarbonate is often used to provide protection for walls, electrical cabinets, refrigerators and display cabinets. It can be easily coloured and its high gloss appearance is attractive.
Excellent light transmission is a feature of extruded polycarbonate, which lends itself perfectly to lighting applications and, for years, clear, reeded and frosted polycarbonate extrusions have been produced for use with fluorescent lighting. Now, with the growth in the use of LEDs, we offer an ever-expanding portfolio of frost and opal finishes for uses where there is a need to diffuse light or reduce spotting and concurrently maximise light output.
For lighting in public places or in specific sectors, such as aerospace, some grades of extruded polycarbonate are available with higher levels of flame resistance.