Medical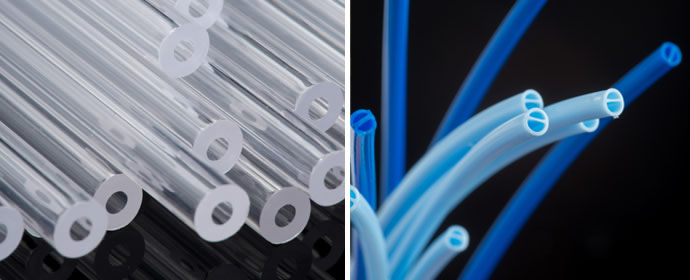 Medical tubing is an important component of devices which deliver fluids to and from the body. These medical tubes, which are small and complex custom plastic extrusions, often contain multiple chambers so different fluids and drugs can be transmitted through the same fine plastic tube.
All our medical grade plastic tubing is produced in our clean manufacturing facility which has its own independent power supply, compressed air and water cooling system – away from our commercial production lines.
Our flexible medical grade tubing can be manufactured with single, dual, or triple lumens and can be supplied cut-to-length or as a reel. In addition to our multi lumen plastic tubes, co-extruded medical grade tubing is also available.
We offer medical tubes in a range of flexible materials including PVC, Polyurethane (TPU), TPE (SEBS) and TPV in a variety of densities. We can also select suitable materials for gamma or ETO (ethylene oxide) sterilisation methods and supply anti-bacterial additives for medical applications where cleanliness is a priority.
We also produce medical tubes in a range of rigid materials :- rigid PVC, Polycarbonate, HDPE and Styrolux.