Plastic profiles: a modern essential for your application?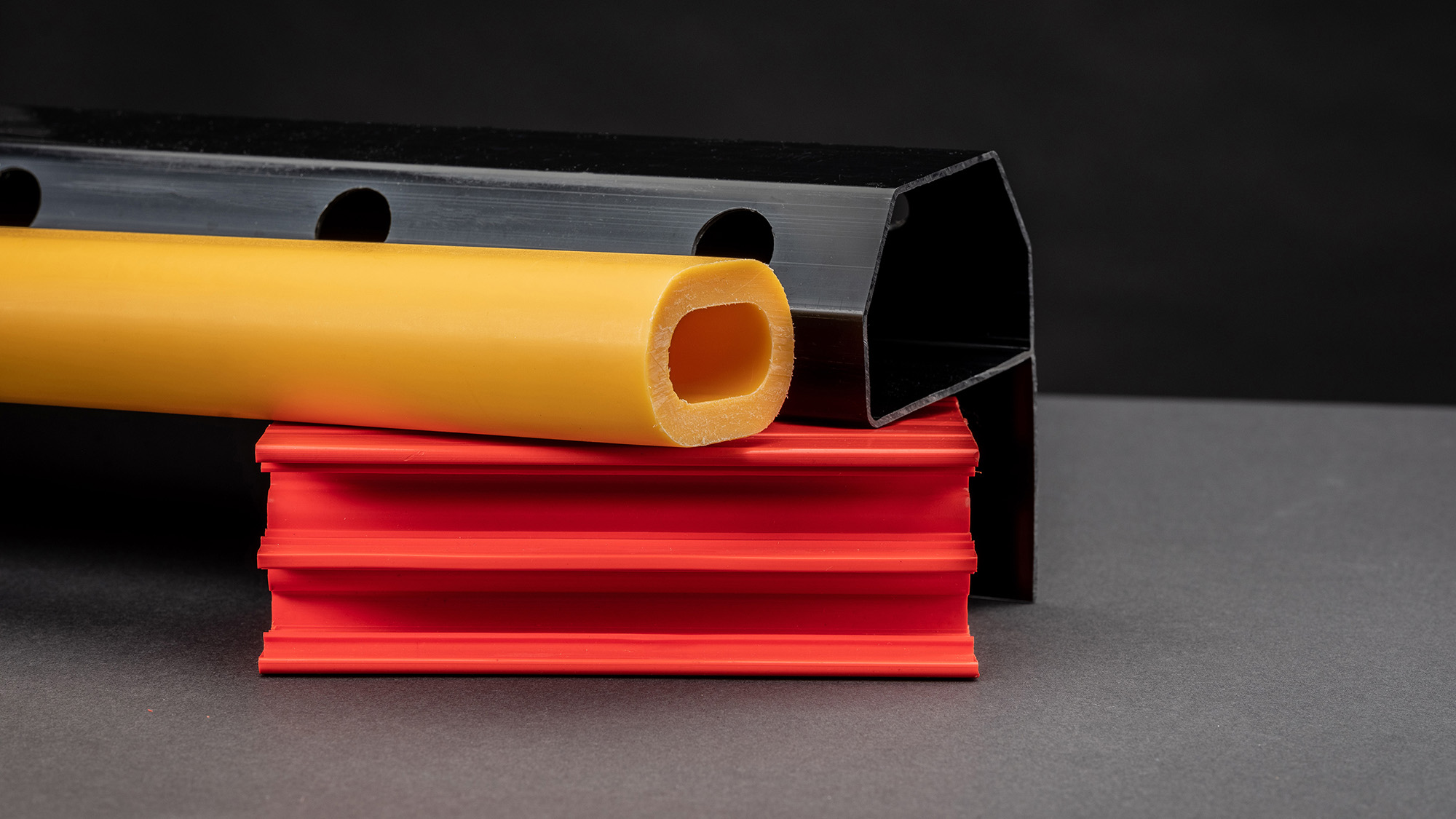 Whatever your application, a plastic profile may fit the bill. Modern extrusion technology and a variety of tailored materials can make the difference to the success of your own product in its application. The correct combination of aesthetics – colour and finish, shape, properties and dimensions will provide you with a tailored solution for your product's use. But what actually is a plastic profile?
What are plastic profiles?
A plastic profile is a piece of extruded plastic made in a specific shape and material. A plastic profile may form part of an assembly or be a standalone product. An example of a simple plastic profile would be a tube, a rounded shape that water or another liquid flows through. Great examples of complex plastic profiles in everyday use would be those used to make windows or conservatory frames. Extruded plastic profiles are used to make the sash, glazing bars, frames, sills, trims and even the seals. A frame will need multiple extrusions. These profiles can offer more than just structure. Multiple chambers can be designed and added within the profile to significantly improve thermal performance.
What is plastic extrusion?
Plastic extrusion is the process of making continuous shaped plastic products by pushing molten plastic through an appropriately shaped die and then cooling the plastic while holding it to the desired shape in the second part of the tool, the calibrator. These plastic profiles can be solid all the way through or hollow. They can be made in an infinite range of shapes, sizes, materials, colours and finishes. Once cooled, they can be machined, printed and cut to the needed length before being packaged up. Then voilà, your profile is on its way to you!
Plastic extrusion is a globally recognised process with many specialist and generalist companies manufacturing a vast range of different extrusions for a plethora of applications.
How plastic profiles are solving complex needs
A simple plastic profile can be used to create so many different things.
Construction
The construction industry is already an avid user of plastic profiles. The strength and durability of the plastic profiles makes them ideal for piping, guttering, electrical cable protectors, window frames and even parts of rooflights! Drilling and groundworks are also keen on plastic profiles, using them soil sampling, gas and water piping.
Agriculture
Agriculture uses plastic profiles for land drainage pipes, animal tagging and feeding, plant trays, fencing, decking and plastic posts. As plastic is resilient to corrosion when underground, it offers very little competition from other materials, giving unmatched durability for the price.
Consumer goods, hospitality and household items
Consumer goods, hospitality and household items are also big users of plastic profiles. Think about furniture trims, fridge seals and other electrical goods with trims or seals, all of them utilise extruded plastic. These products really benefit from the durability of extruded plastic, giving them a long lifespan and also pleasing aesthetics.
Safety and security
Safety products such as fire-resistant seals, fire blanket holders and protective corner strips all utilise plastic profiles.
Datacentres
Some plastics are excellent insulators and have great thermal stability. As a result, they can be prolific in the power distribution within these facilities.
Automotive and transport
The automotive and transport sectors use plastic profiles for all forms of interior and exterior trims and seals. In cars many seals are evident around all openings such as the doors, bonnet or boot. In caravans, plastic profiles are widely used for trims, frames skirt-rails. Plastic profiles are also utilised throughout rail carriages and aircraft for diffusing or distributing light around the passenger compartment or as decorative covers around windows or along the length of the cabin.
Ticking all the boxes
Plastic profiles can be used for a huge array of things. One plastic profile could be part of a home cinema room, another could become a hatch on an expensive yacht, another profile could be the trim on a motorhome or an insulator in a datacentre, the applications seem almost endless. The possibilities for plastic profiles are vast and versatile, and because of how much control we now have over plastic extrusion, they really can tick all the boxes.
Our Managing Director, Michael Stewart said, "To be honest, you will definitely see plastic profiles every day and won't even know it. Their versatility, durability, aesthetic quality and texture mean that they are almost able to contribute positively in pretty much any application. Plastic profiles are so versatile and may be the best solution for you."
How Condale Plastics can help you
Here at Condale Plastics, our highly skilled team thrive on helping you with your profile extrusion needs. We're proud to be offer support to make your design for a bespoke profile into a reality as well as offering some standard profiles to order. Plastic extrusions became available in the 1930s, and Condale Plastics has been manufacturing since the late 1960s. We think this gives us the experience and knowledge to say we have one of the best offerings in the UK! Get in touch with us today to find out how we can help you get your perfect  plastic profile.