Rapid prototyping technology saves on design and development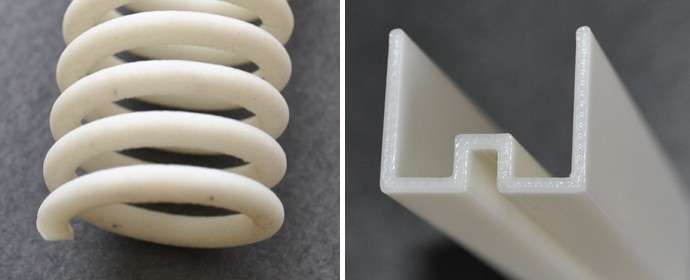 Condale Plastics has recently acquired a 3D printer which we are using in rapid prototyping applications. This allows clients to make amendments and changes at an early stage in the development process of a new plastic extrusion – before tooling production begins – which saves both time and money.
Rapid prototyping explained
Upon production of a two or three dimensional CAD file, a design can be fed into a 3D printer, capable of producing complicated 3D shapes, to create a "rapid prototype" – a 3D model used to evaluate an extrusion design.
There are different methods which can be employed as a means to the same end, but at Condale Plastics we use fused deposition modelling. This process involves building a model by printing layers of, in this case, acrylonitrile butadiene styrene (ABS) to produce the 3D model. Small, flattened strings of ABS are extruded to form the layers and the material hardens immediately after extrusion from the print head of the 3D printer.
Why rapid prototyping?
Producing 3D modelled prototypes with working parts allows for a physical representation of the finished product. The effect of this being designers and product developers can inspect working prototypes in order to make necessary changes to blueprints before vast sums of money are spent manufacturing tooling or producing imperfect samples.
Having this model to hand allows you, for example, to view how mating parts of plastic extrusions fit together or how a clip may function in practice.
It also allows you to rigorously test the functionality of a product in house or to obtain end user or customer feedback on a particular product.
The information and feedback collected from viewing and testing the 3D modelled prototype then allows changes to be made to the design of the plastic extrusion in question.
Changes made at a late stage in production and development mean wasted time which can be costly, cutting into profit (sometimes completely rubbing out the margin) and harming the success of a project.
After testing a prototype at this early stage, changes can be made before unnecessary costs are incurred.
Proven by history, powered by technology
This method of prototyping and then taking designs back to the drawing board is not new, of course. Nor is prototyping using 3D modelling itself, with its roots dating back to the nineteenth century and a technique known as photo sculpture.
To start to recognise the "rapid" prototyping we are familiar with today you have to jump forward to the 1980s and Hideo Kodama's solid model fabricated using a photopolymer rapid prototyping system.
Over recent years the cost has fallen and effectiveness of 3D printing has grown tenfold – with more surely to come as the first 3D printed houses and cars are coming into existence.
Our 3D printed prototypes themselves are of a much smaller scale, though are no less important. We can produce profile samples at 150mm long with a cross section of up to 200mm x 200mm.
By investing in the 3D printing technology, we're using historically tried and tested theories implemented with modern technology to provide cost-effective plastic extrusion design to our customers.