Not Your Typical Plastic Extrusions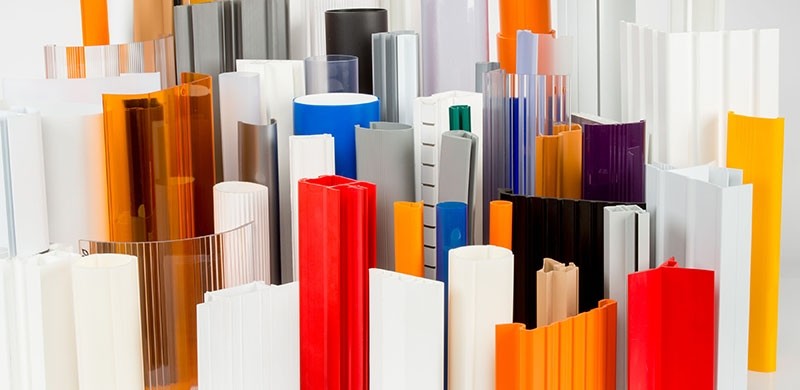 There are more than 20 different types of thermoplastics that can be extruded. Some of the more common ones include polyethylene, polypropylene, polystyrene, polycarbonate, PVC and ABS, all of which can be easily heated and then pressured in a mould to form different plastic profiles, tubes and sections.
Sometimes however, these more commonly used plastics do not match our customers' exact product specifications. In these instances, we work closely with our customers to identify which thermoplastic material will provide the best quality finish, within budget and within the desired timeframe.
In this blog we're going to take a look at some of the more unusual thermoplastics extruded today and the types of applications that they're most suitable for.
Let's start with thermoplastic elastomers. TPEs are a unique category of materials that combine the look, feel and elasticity of conventional thermoset rubber with the processing efficiency of thermoplastics. All TPEs are composed of crystalline domains that give them their thermoplastic character, typically referred to as the 'hard' phase, and amorphous domains that give them their elastomeric character, typically referred to as the 'soft' phase. Whereas the properties of crystalline domains include continuous use at temperature, tensile and tear strength, and excellent chemical and fluid resistance, the properties of amorphous domains include lower service temperature limits, hardness and flexibility. It's these plastic properties that guide the design of a TPE compound for extrusion.
There are seven main groups of TPE available commercially and the ones we're going to concentrate on are styrenic block copolymers (SBS), thermoplastic vulcanisates (TPV), thermoplastic polyurethanes (TPU) and melt processable rubber (MPR).
SBS Extrusions
Styrene-butadiene-styrene (SBS) is probably the highest volume styrenic block copolymer produced, which is due in part to its low cost. SBS is based on two-phase block copolymers – the styrene end-blocks that provide the 'hard' thermoplastic properties and the butadiene mid-blocks that provide the 'soft' elastomeric properties.  SBS offers excellent hardness and wear-resistance and is commonly used in footwear for the soles and heels of shoes and in sports equipment, for example, skate board wheels. Its main disadvantages are its poor chemical resistance and susceptibility to tarnish with age. When SBS is hydrogenated it becomes SEBS, which offers much improved heat and chemical resistance.
Extruded SBS is used in applications from medical tubing to door seals and labels for point-of-sale.
TPV Extrusions
Thermoplastic vulcanisates (TPVs) are compounds of polypropylene (PP) and EPDM rubber which have been dynamically vulcanised during the compounding step. With excellent heat resistance up to 125oC, TPVs have seen prolific growth in the automotive sector as a replacement for standard EPDM rubber. TPV extrusions are available in a wide range of grades and hardnesses, including water compliant grades.
Extruded TPV is used in applications from drinking water tubing and peristaltic pumps to automotive seals and pipe seals.
TPU Extrusions
Thermoplastic polyurethanes (TPUs) can be polyester-based, which are mainly derived from adipic acid esters, or polyether-based, which are mainly derived from tetrahydrofuran ethers. The main differences are: polyester-based TPUs provide greater adhesion strength, abrasion and chemical resistance, and superior heat aging; polyether-based TPUs offer low temperature flexibility, microbial resistance and excellent hydrolysis. A wide range of grades are available, including fire resistant TPU and food grades.
Extruded TPU is used in many dynamic applications from pneumatic tubing, marine and underwater pipes and industrial belting, wires and cables. TPU can also be co-extruded to rigid PVC.
MPR Extrusions
Melt processable rubber (MPR) generally sits at the higher end of the TPE price scale. It is a true rubber based on a partially cross-linked, chlorinated olefin interpolymer alloy. Characterised by its strong chemical resistance, MPR is designed for demanding applications where stubborn oil and grease is present. It possesses several properties similar to vulcanised rubber including its noise-dampening and stress relaxation qualities. Generally it is only available in black and white, unlike some other TPEs which can be coloured.
Extruded MPR is used to produce a number of automotive components, such as weather strips and hand grips, and a range of different tubing. It also bonds very well to PVC, polycarbonate or ABS to produce co-extrusions.
Other Unusual Thermoplastics
Of course outside of the TPE family of thermoplastics there are other materials, which like the ones we've summarised, are also used for quite specialised applications.
Ethylene vinyl acetate (EVA) is the copolymer of ethylene and vinyl acetate. It offers good clarity and gloss, low-temperature toughness and excellent stress-crack resistance. As it is waterproof and resistant to UV radiation, EVA extrusions are commonly used for outdoor applications from crane and railway pads to fishing rods, and also electrical applications. Competitive with vinyl and rubber products, the main downside to EVA is its distinctive 'vinegar' odour.
Polybutylene terephthalate (PBT) is a type of polyester commonly used as an insulator in engineering applications. Mechanically strong and rigid, PBT can be heated up to 150oC and can be treated with flame retardants to make it non-combustible. Unlike EVA, PBT requires UV protection if used outdoors. Extruded PBT is used to produce many different electronic components as well as electrical covers, automotive parts and tubes.
Choosing a material
As a leading UK manufacturer of custom plastic extrusions, we ensure that we remain abreast of the most recent innovations in plastics to offer our customers the best possible technical advice. This includes advice on material selection, as well as extrusion design and tooling.